Today we are going to discuss WordPress plugins which will be having all the features to add Google reviews to your wordpress site and improve your online reputation, such as:
Google Reviews Pro
Google Places Review
Google Reviews Slider
WP Review Slider Pro
Google Places Review Pro WordPress Plug-in
WordPress Plugin #1: Google Reviews Pro
This is considered the number one plugin which is also known to store or save reviews in the wordpress database.  Hence, it helps in taking your business into the remarkable height in the business world. It offers 5 type of different layouts in the type as a slider, grid, embed badge, fixed and list for providing a fantastic business review display at the site. It is not free, and you have to select the pricing plan as per your requirement.
Price – $65-$89
List of Features for this Google Review WordPress Plugin
All Free Features
Google Rich Snippets
5 Most Helpful Reviews *
Themes: Slider, List, Grid, Badge
Shortcode Support
Minimum Filter Ratings
Write a Review Button
Change Business Photo
Sorting, Pagination
Priority Support
WordPress Plugin #2: Google Places Review [Free]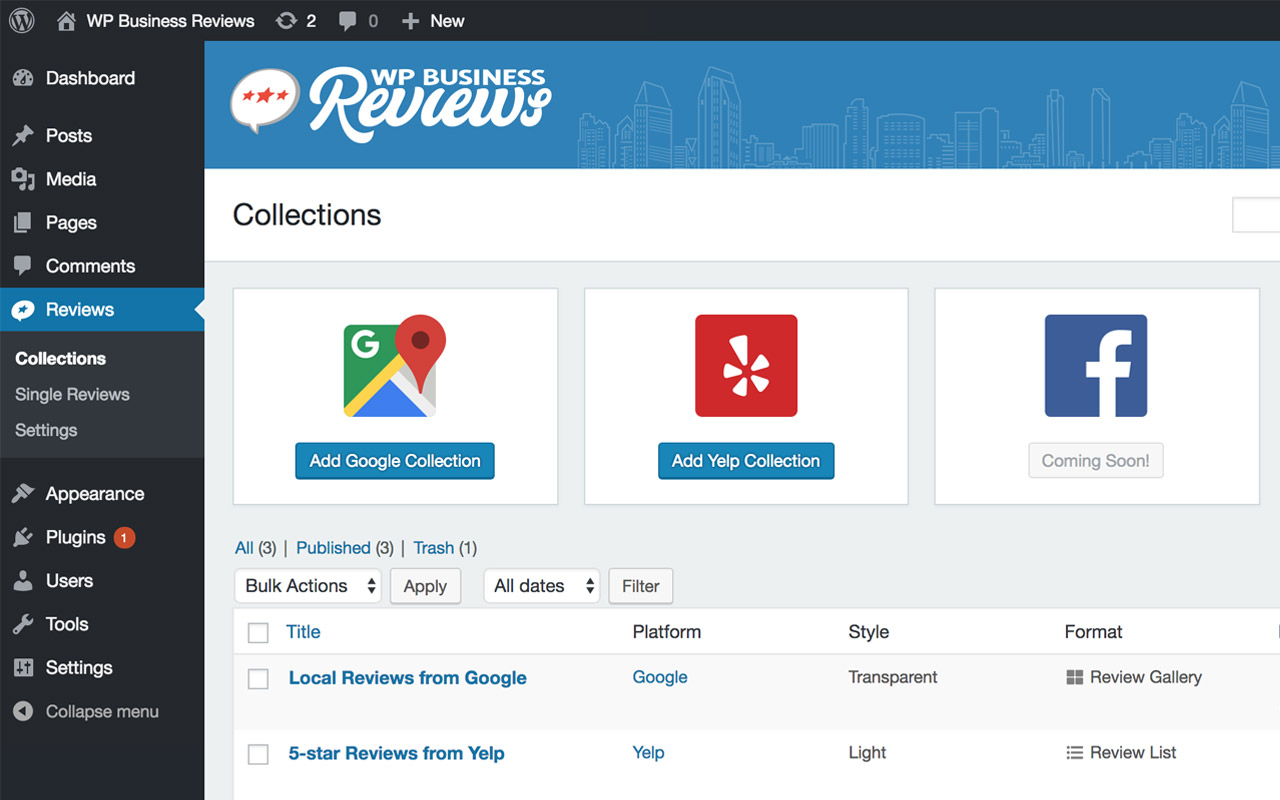 It is the best plugin for the business like retails, restaurants, hotels and more. It will help to get the reviews for the business which are having their entities on the google maps. Hence the businesses can provide their elaborated information about the business through maps like name, site address, and more. It will help their customers to check their reviews before finalizing the hotel or restaurant, etc. It is not free, and you can select the license plan as per the business need.
Price – $0
List of Features for this Google Review WordPress Plugin
Google Business Reviews – Display up to 3 business Google reviews per location.
Detailed Business Information – Show the business name, website, Google+ page and more from Google My Business Page.
Versatile Widget Themes – Choose from a selection of stunning widget themes that fit light and dark color schemes that make integration with your website design effortless.
Google Places Autocomplete – Easily lookup Google my businesses in your area through the widget interface using the power of Google search.
WordPress Plugin #3: Google Reviews Slider
It is one of the highest quality performing plugins as it is also rated with 5star. It is free to use plug-ins. All you need is to have a 4.6 version of word press to start using the features of this plug-ins. This plugin allows your business site to show the most recent five reviews for the site or the product. It displays reviews in slider format. It is also quite simple to use. As it offers an option of placing the slider by just inserting the simple shortcode in the site page.
Price – $0
WordPress Plugin #4: Google Places Review Pro WordPress Plug-in
This plugin is the best option which will enhance the Google ranking of your business site. A/B testing performed on data with regular writings and pictures and the one having Google surveys. The later one had an extraordinary outcome as clients discovered this page more intelligent and lively. Such reviews are intended to guarantee you to target the targeted audience to your site efficiently. Get the regular license of this plugin as it is also not free to use.
WordPress Plugin #5: WP Review Slider Pro



It is one of the plugins which facilitates your business site to display their business reviews in a completely different style. Mainly in the form of the testimonial sliders or even by the use of the masonry and regular grid etc. You need to pick up the review from the sites like Facebook, Twitter, etc. And then have to create a customizable template to add the selected reviews on the same. And then further the same template code is used on your business website to represent the testimonials. It is also not a free plugin hence select the suitable license plan as per your requirement.
How these WordPress Plugins help you improve your online reputation?
Thus, all of the above mentioned plugins are the best WordPress plug-ins which helps in adding the google reviews in your business websites. It helps in increasing your online reputation.  And also enhancing the number of visits to your business sites.  All these plugins are quite easy to use and provide smooth functioning.
Now as we know that a customer is acutely aware and always inquire first before taking any purchase decision. Hence, in the era of online businesses, people are relying on the reviews to know the reputation of the product or service.
And the most reliable source among all is the google reviews as Google. It is considered as the most trusted search engine and review site. So, any person who is looking for a product check the product reviews of the same through google.  The 4 to 5-star rating is considered as the satisfied or happy customer rating.
To add an honest review in your business site help your customer to check the google reviews to take a buying decision. You need to add or include the WordPress plugin in your site.
Thus, when your business site incorporates the plugins.  It will allow you to pick up the reliable reviews form the favorite sites like Facebook, Twitter and more. Moreover, at that point, you can likewise grandstand Google places alongside the review snippets on your site page. These reviews can discover their place in the sidebars, footer, landing page or any post or page on your site.